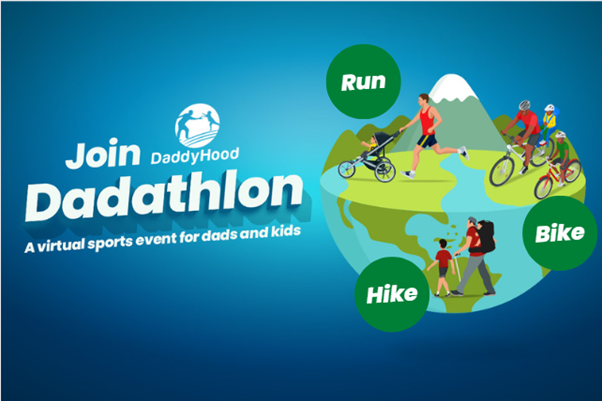 DADATHLON – promoting sporty and healthy lifestyles among children through family sports events
 ERASMUS-SPORT-2021-SSCP
Project Number:101050399
Duration: 14 months
24 May, 2022 – 24 Jully 2023
Budget: 60,000 EUR
Project Partners: Daddyhood Europe, Status M, Start, SC Franeker and Atletski klub Krk
"Dadathlon – promoting sporty habits and healthy lifestyles among children through family sports events" is project running from May 2022 to July 2023 worth 60,000EUR financed from the Erasmus+ Sports programme in the category of small scale partnerships (ERASMUS-SPORT-2021-SSCP, Project Number: 101050399). Dadathlon is a celebration of the movement to create more opportunities for fathers to spend active time doing sports with their children and thereby becoming role models for their children in leading healthy lifestyles.
The benefits of this approach are multiple, from creating healthy habits among children and scientifically proven psychological advantages of having a present father figure to advocating environmentally-friendly attitudes of entire families.  The Dadathlon project is the product of a unique partnership between several grassroots organisations operating in Sweden, Bulgaria, The Netherlands and Croatia. Daddyhood Europe is the project coordinator and the partners on the project are Status M and Atletski klub Krk from Croatia, SC Franeker from The Netherlands and organisation START from Bulgaria.
This Dadathlon project applied the Dadathlon concept of a series of races for fathers and children covering three different sports disciplines (running, cycling and hiking) to three different locations in Europe – running in Croatia, hiking in Bulgaria and cycling in The Netherlands, each taking place at a different time during the year. The funding from the Erasmus+ project engaged around 1000 individuals (fathers and children) in physical activities, it helped spread the Dadathlon concept to more European countries and raise capacities of the participating organisations to implement large sports events with an international character.
Check out the video of each event: